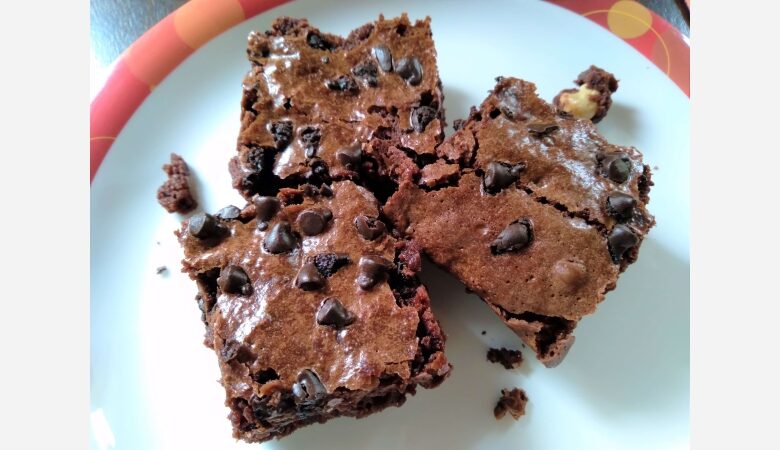 Brownies with ice-cream or brownies with a hot cup of coffee……..delicious anytime, anywhere !! Be it fudgy, moist, with or without eggs, brownies are always loved. A crackly brownie top is what makes me lust after them.
I can never tire of eating brownies. They are a family favourite and once a batch is made, it vanishes into the tummies within 24 hours. That's pretty fast, I must say. Normally I make brownies with or without chocolate, but this time around I made them with chocolate chips.
My friend got me a packet of chocolate chips of Nestle from the US and I checked out their website for recipes. When I read this, I thought I should try it out, but with some additions and subtractions of my own.
Ingredients
Semi sweet chocolate chips –  1 1/3 cup plus 1/3 cup
Parry's Natural Brown sugar –  1 cup
Unsalted butter –  1/3 cup
Water – 2 tbsp.
Eggs – 3 small eggs
Vanilla essence –  1 tsp.
Organic Wheat Maida – ¾ cup
Cadbury's Cocoa powder –  1 tbsp.
Salt –  a pinch
Walnuts / Cashewnuts –  ½ cup
Method
Take a microwave proof bowl and add the 1 1/3 cup of chocolate chips, butter and sugar with the water.
Microwave on high for about a minute approx.
Stir well with a wooden spoon till it forms a homogenous mixture.
Add the eggs to it and blend well.
Now add the essence and give it a good stir.
Add the maida, cocoa powder and salt. Mix well.
Now mix in the remaining ingredients of chips and nuts.
Bake in an oven proof dish for about 30 mins at a temperature of 180 degree celsius.
To check if it is done, insert a wooden toothpick and when it comes out, it should have just a few sticky crumbs to it.
Cool and cut into pieces.
Some more of my favourite brownie recipes ….
a. Salted Caramel Chocolate Brownie
b. Yummylicious Chocolate Brownie
c. Caramel Brownie
d. Eggless Chocolate Brownies
e. Brownies with Pure Dark Chocolate