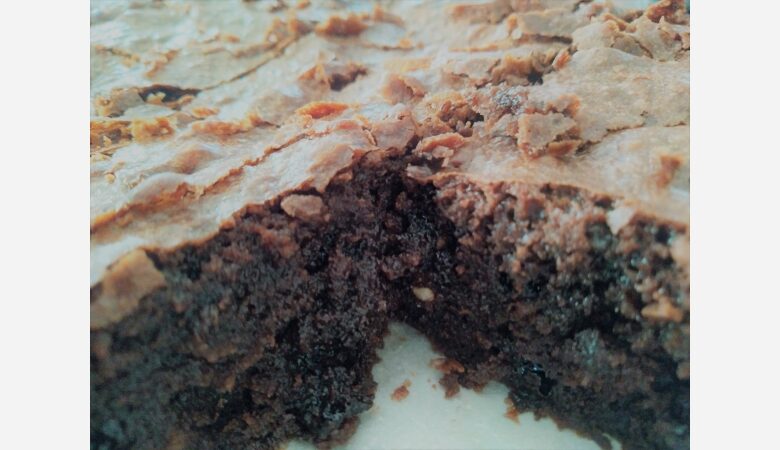 I was so intrigued by the name Deep Dark Brownies in Recipe Girl. I thought to myself, why not try these out with the ingredients available at home. And, I did just that.
Normally, I try to use organic ingredients and make healthier versions of stuff but once in a way, what the heck….I give in to temptation. Who doesn't love a good chocolate fix. For me and many others, I'm sure, chocolate is heavenly ! anything chocolate is next to God 
Ingredients
Organic wheat maida – ¾ cup
Cadbury cocoa powder – 1 tbsp.
Unsalted butter – ½ cup
Araku Instant espresso coffee powder – 1 tsp.
2M pure dark chocolate – 150 gms.
White sugar – ½ cup
Parrys Natural brown sugar – ½ cup
Eggs – 4
Vanilla essence – 1 tsp.
Morde Semi sweet chocolate chips – ¾ cup
A pinch of salt
Method
1. In a non-stick baking pan, put a sheet of parchment paper and keep aside.
2. Take a microwave safe bowl, add chopped chocolate, butter and coffee powder into it. Microwave on high for a minute and stir well till it forms a smooth mixture.
3. Now add both the white sugar and brown sugar and mix well. Let it come to room temperature.
4. Add the eggs one by one to the bowl and stir well. Then add the vanilla essence.
5. Now add the maida and cocoa powder with a pinch of salt and mix well till combined.
6. Then add the chocolate chips into the brownie batter.
7. Pour the batter into the prepared cake pan and put into the oven.
8. Bake for about 30 minutes at a temperature of 180 degrees Celsius.
9. To check if done, insert a toothpick into the centre of the cake. If it comes out clean with no batter sticking to it and just a few crumbs, it is ready.
10. Cool and cut into bite-sized pieces.
If you love BROWNIES…just like I do, do try out my other brownie recipes too…
a. Salted Caramel Chocolate Brownie
b. Eggless Chocolate Brownie
c. Caramel Brownie
d. Dark Chocolate Brownies
e. Yummylicious Chocolate Brownie