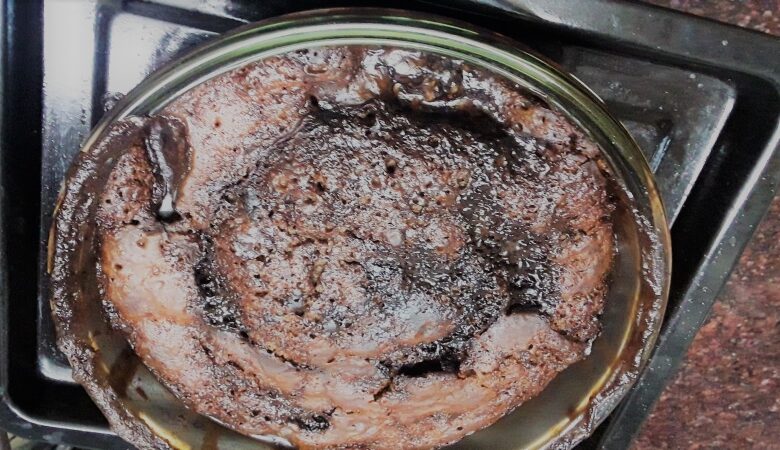 A cake that sauces itself when baking ? WOW !!!  Yummy !!! I am drooling, just thinking of it. Imagine a dark brown chocolate fudge sauce with a soft moist cake and a caramel tasting crust…oooooohhhh, its so mouthwatering.
I generally surf the net for anything chocolate kind of recipes. This is when I came across this one that is in a class of its own. The Recipe Rebel, great title I must say, had so much to say. Further exploration led to many other web pages that wrote so much about this dessert, and mostly all of them had pretty much the same thing to say.
Ingredients
Wheat Maida –  1 cup
White sugar –  ¾ cup
Cocoa powder –  2 tbsp.
Baking powder –  2 tsp.
Pinch of salt
Milk –  ½ cup
Cooking oil –  2 tbsp.
Vanilla essence – 1 tsp.
Parry's Natural brown sugar –  1 cup
Cocoa powder –  ¼ cup
Hot water –  1 ½ cup
Method
Take a bowl and add the first 8 ingredients into it and give it a good mix.
It will form a thick batter. Stir well to combine.
Put the batter into a greased dish with high sides so that there is no spill-over while baking.
In another bowl, mix together the brown sugar and cocoa powder to form a uniform mix.
Spread this mixture on the batter and then pour the hot water all over it gently.
Bake for about 30 to 40 mins at a temperature of 170 degrees Celsius.
When done, the top will be dry and puffed up. You can also do the toothpick test. But the cake pudding will have a fudge sauce at the base.
It has to be served warm and tastes much greater with a scoop of ice-cream.
Chocolate, Fudge, Cake, etc..etc.. Here are some recipes that are droolworthy….
a. Nutty Chocolate Fudge
b. Fudge Chocolate Brownie Cookies
c. Toffee Cake
d. My Fave Chocolate Brownie
e. Easy Brownie Cake