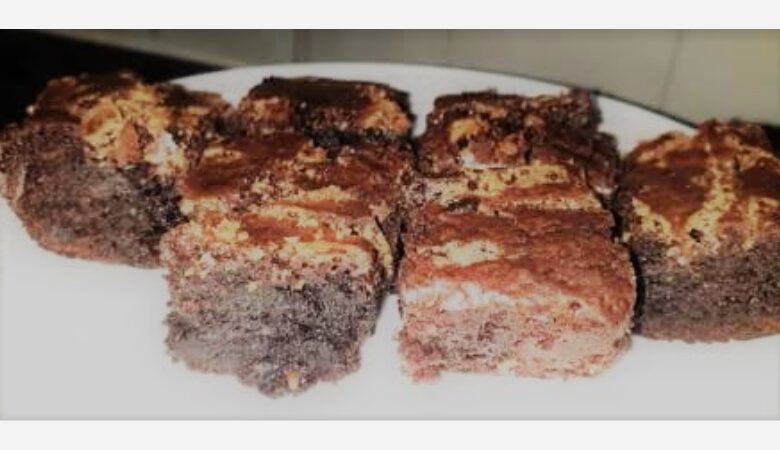 Ingredients
Unsalted butter – 100 gms.
Dark chocolate – 100 gms
Caramel sauce – 200 gms
Salt – ½  tsp.
Sugar – 100 gms. powdered
Eggs – 2
Maida – 65 gms.
Cocoa powder – 25 gms.
Method

Preheat the oven to 180 °C. Take a square baking pan , grease and line it with parchment paper. Keep aside.
Melt butter and chocolate together in a saucepan over a low flame. Or you can do it in the microwave.
In a small bowl, beat the caramel with the salt to loosen it a little. Put the rest of the caramel in a large bowl and add the sugar and eggs into it. Beat well.
Next mix in the butter and chocolate mix.
In another bowl, combine the maida and cocoa powder and add it to the mixing bowl. Stir well till smooth.
Pour half the batter into the baking pan and spread out till the edge.
Using a spoon, pour half the salted caramel on top of the batter in long lines. Now pour the rest of the batter on top and smoothen on top.
Again top it with the remaining salted caramel in stripes and using a toothpick create a marbled effect.
Bake for 25 to 30 minutes. The top should be a little crusty and the centre moist. Let it cool completely in the pan. Cut into squares.
Here are a few more of my Brownie recipes that you may like….
a. Salted Caramel Chocolate Brownie
b. My Fave Chocolate Brownie
c. Eggless Chocolate Brownie
d. Brownie Cookies
e. Mini Brownie Muffins
f. Brownies with Pure Dark Chocolate
g. Easy Brownie Cake