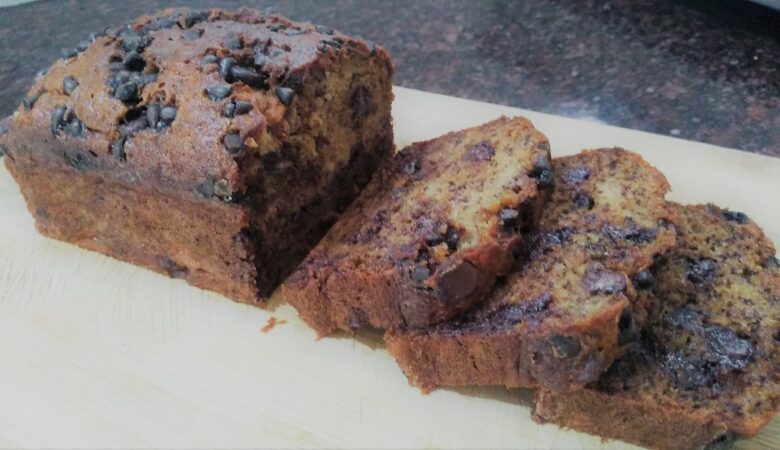 Ingredients
Unsalted butter – 1/4 cup, softened
Brown Sugar – 1/3 cup
Egg – 1
Bananas – 2 medium size, very ripe
Vanilla essence – 1/4 tsp.
Maida – 3/4 cup
Baking soda – 1/2 tsp.
Salt – 1/4 tsp.
Semisweet chocolate chips – 1/2 to 3/4 cup divided
Method
1. Preheat the oven to 180˚C. Butter and flour a small loaf pan. Keep aside.
2. In a mixing bowl cream together butter and sugar.
3. Then add the egg. It has to be lightly beaten.
4. Mash bananas with a fork and add them to the mixing bowl along with the vanilla essence. Mix well.
4. In a separate bowl, mix together the dry ingredients and add this to the mixing bowl.
5. Fold in 3/4 quantity of chocolate chips and pour the batter into the loaf pan. Sprinkle the remaining chocolate chips on the top.
6. Bake for almost an hour or until a toothpick inserted into the center comes out clean.
6. Let banana bread rest for 10 min before transferring to a wire rack to cool.
Click here for more such yummy baked loaf recipes using banana …
a. Moist Banana Bread w Cashewnuts n Raisins
b. Nutty Apple Banana Cake
c. Breakfast Muffins
d. Eggless Chocolate Chip Banana Bread