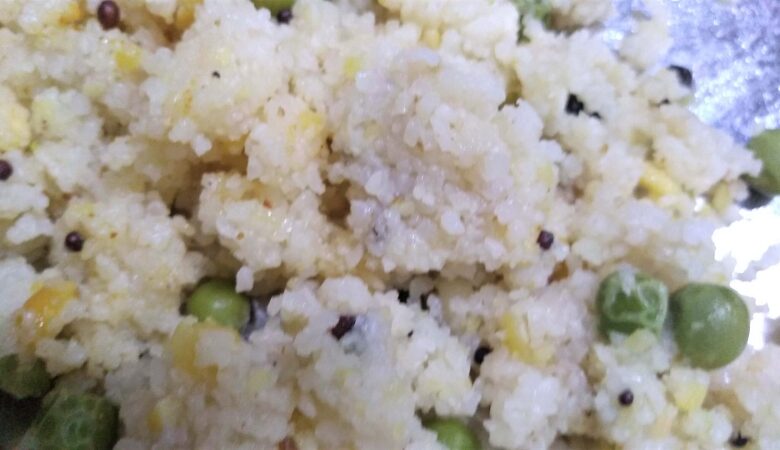 This is my grandma's recipe. She loved it and I love it too. My parents never liked to eat it. So, both of us, my grandma and I, when we felt like it used to make this recipe of rice rava upma and enjoy. Addition of a little more ghee and a bit of gunpowder sprinkled on top, and what a tasty combo it would be ! Lucky for me, my husband too loves this dish. Not even one occasion goes by when I don't think of my grandma eating the arisi upma.
Ingredients
Rice rava – 1 cup
Toor dal or kandipappu – ¼ cup
Peppercorns – 1 tsp.
Cumin seeds – 1 tsp.
Mustard seeds – ½ tsp.
Urad dal – 1 tsp.
Chana dal – 1 tbsp.
Peas – ½ cup
Curry leaves – a few
Hing or asafoetida – a pinch
Coconut oil – 2 tbsp.
Fresh grated coconut – 2 or 3 tbsp.(optional)
Water – 2.5 cups
Salt to taste
Method
Grind together the dal, pepper and cumin to a very coarse grain.
In a pressure pan, add in the oil, and after it is hot add in the hing, mustard seeds, urad dal, chana dal and curry leaves. Saute for few seconds and add in the peas.
Now add in the salt and water together and bring to a boil.
Once it is boiling, now add in the dal mix. Next add in the rice rava and mix well.
Cook for 3-4 whistles and once you open the lid, you can add in the coconut and fluff it up. It gives a distinct taste and flavour. Serve hot.
For some more varieties of upma …..
a. Wheat Rava Upma
b. Semiya Upma
c. Uppindi
d. Rice Rava Upma – My Style