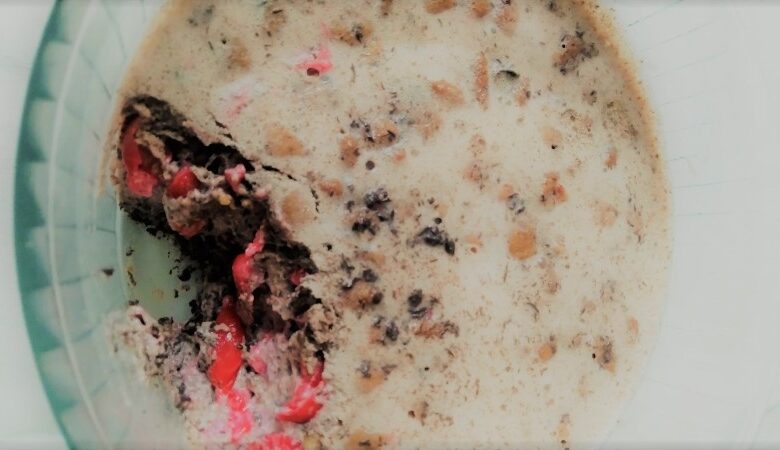 This is another one of my friend's recipes that I told you about in earlier posts. Cool and yummy, this is a family favourite dessert. We have it so often, yet we don't get tired of it. With such excellent consistency, this dessert is really a mouth watering delight.
Ingredients
Vanilla Ice-cream –  500 ml.
Chocolate muffins – 2, crumbled
Tinned cherries – 1 cup, chopped and seeds removed
Fresh cream – 100 ml.
Gelatin – 1 1/4 tbsp.
Cold water –  1/4 cup
Semi-sweet cooking chocolate – 100 gms.
Method
Soak the gelatin in 1/4 cup of cold water for a minimum of 15 minutes.
Take a big vessel and put the ice-cream into it. Bring it down to room temperature.
Now add the chopped cherries and chocolate muffins to it. Mix well.
Melt the chocolate on a double boiler till smooth and add it to the ice-cream mix.
Next add in the fresh cream and give it a good stir.
Next melt the gelatin on a double boiler and then add it to the mixture. Mix well.
Pour this mix into a glass dish and set in the refrigerator for a few hours till it is ready.
You can decorate this with fresh cream and cherries once it is set.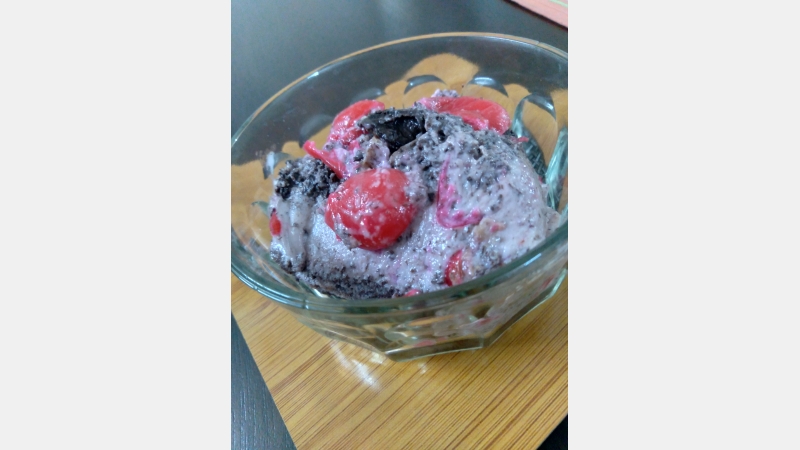 Variations
A. For Caramel Delight
You can add half a cup of caramel sauce to the ice cream mix. Be sure to omit the cherries.
B. For Mocha Delight
You can add a teaspoon or two of coffee powder dissolved in 2 tbsp. of hot water, depends on how much coffee taste you prefer. Be sure to omit the cherries.
For some more yummy desserts, click here…..