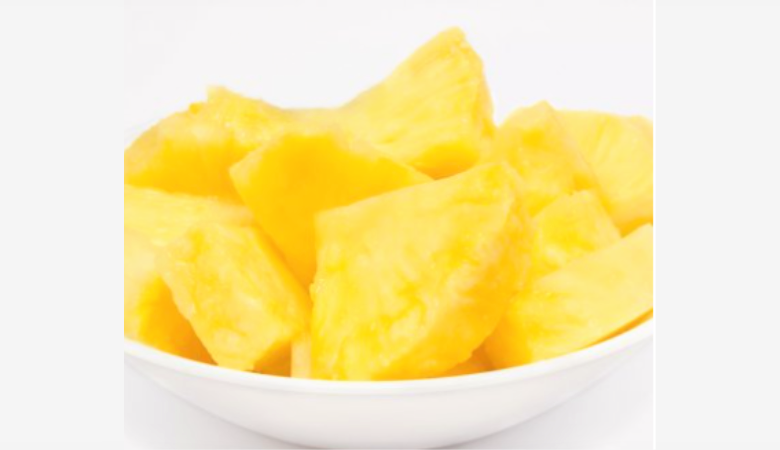 This Quick Pineapple Souffle is next in the series of recipes given by my good friend. When I had it at her place, it was like sooooo yummmmm. I thought I should try this out sometime in my kitchen and give it to my mom especially, as she just loves anything pineapple.
Recipes such as these are quick to make and serve. They are not time consuming and yet they give the appearance of having put in a lot of time in preparation. Your family or guests are going to gush when they have a look and a spoon to eat.
Ingredients
Vanilla ice-cream – 500 ml.
Pineapple jelly – 1 pkt.
Gelatin – 1 1/2 tbsp.
Pineapple pieces –  1 cup
Water – 1/4 cup
Fresh cream –  100 ml
Sugar –  4 tbsp. powdered
Pineapple essence –  1/2 tsp.
Yellow Colour –  few drops
Method
Soak the gelatin in cold water for about 15 mins.
Take a big bowl and put the ice-cream into it till it gets to room temperature.
Make the pineapple jelly as per the instructions on the packet. Keep aside.
Now add the jelly (should be at room temp.) to the ice-cream and stir constantly.
Next add in the pineapple pieces, essence, yellow colour, cream and powdered sugar.
Dissolve the gelatin on a double boiler and add it to the jelly and ice-cream mix.
Set in the refrigerator for a few hours till it is ready to eat. You can decorate it with cream and pineapple pieces on top.
Here are a few more easy dessert recipes for you to try out ….
a. Mango Souffle
b. Trifle Pudding
c. Hot Fudge Pudding Cake
d. Black Forest Delight
e. Mango Cheesecake Parfait