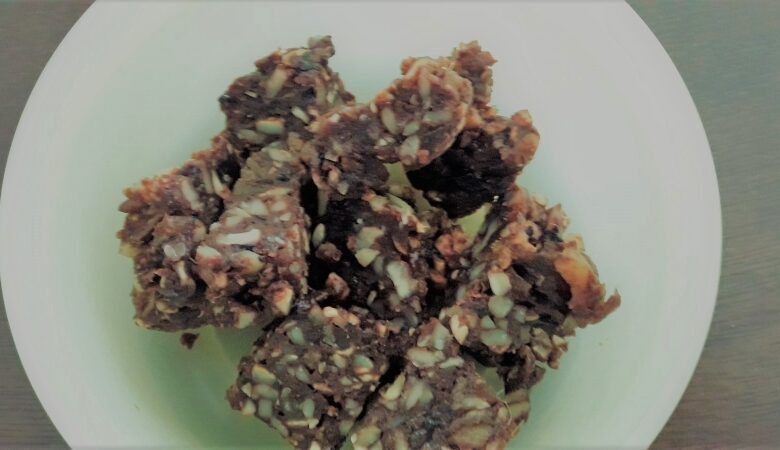 It is a healthy sweet bite just when you feel like snacking in between meals. All good things like nuts and dates together with sesame seeds and especially the use of gelatin make for a healthy boost up for skin and general bone and gut health.
Ingredients
Cashewnuts – ½ cup roughly chopped
Pitted dates – ½ cup
Cocoa powder –  1 tbsp.
1 tbsp. gelatin
1 tsp. vanilla essence
Unsalted butter –  1 tsp.
Sesame seeds –  1 tsp.
Method
Soak the dates in boiled water for about 10 mins. Drain and blitz.
Add the other ingredients except cashew into the date mix and blend well until nice and smooth.
Now add the cashewnuts to this mix and blend again.
Spread the mixture into a steel plate and press down evenly.
Put this in the refrigerator for 15 to 20 minutes.
Once it cools down, cut into small bite size pieces and store in container in the refrigerator.
Dates are nutritious and a having a couple of dates a day is good for health. You can incorporate dates into sweet bites such as
a. Tea Time Date Muffins
b. Eggless Oats and Date Cookies
c. Nutribar
d. Date and Nut Shortbread