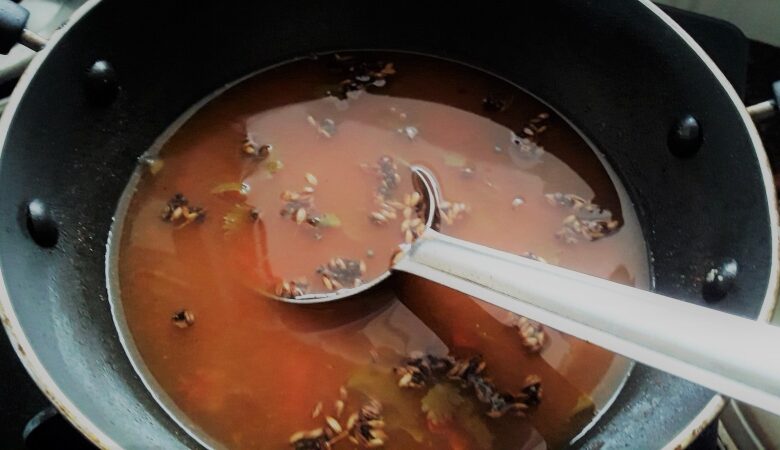 Ingredients
Tomatoes –  1 big chopped
Tamarind paste –  ½ tsp.
Water –  2 glasses
Salt to taste
Turmeric –  ½ tsp.
Rasam powder –  1 heaped tsp.
Coriander –  2 tbsp. chopped
Curry leaves –  a few
Garlic –  2 pods
Oil –  1 tsp.
To temper
Oil –  1 tsp.
Mustard seeds –  ½ tsp.
Cumin – ½ tsp.
Hing –  ¼ tsp.
Method
Take a pan and add oil. Once hot, add the tomato pieces and fry well till it becomes mushy.
Add salt, turmeric, tamarind paster and water. Give it a stir and boil well.
Once boiling, add the coriander, curry leaves and rasam powder and boil well.
Just before switching off the stove, add the garlic pods into it for more flavor.
Wait for 5 minutes and then do tempering and add it to the rasam.
Here are a few more tasty rasam recipes….
a. Dal Rasam
b. Buttermilk Rasam
c. Traditional Rasam
d. Simple Tomato Dal Rasam