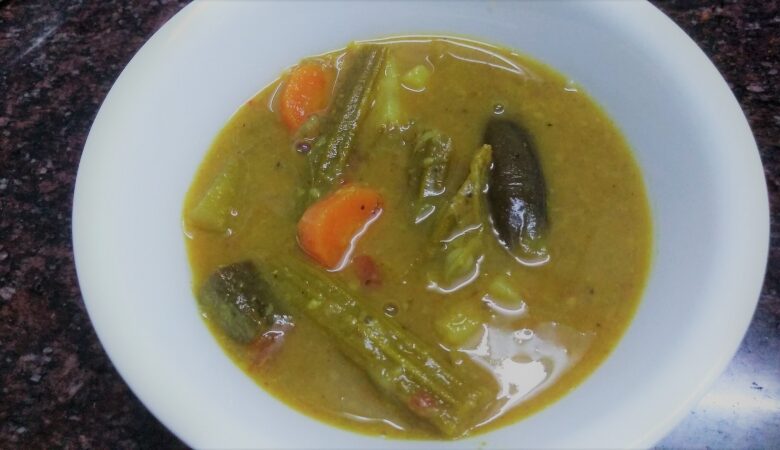 Ingredients
Tuvar dal –  ½ cups (soaked for 2 hours)
Yellow moong dal –  ½ cup
Tomatoes –  2 chopped
Onions – 2 chopped
Green chillies –  3 or 4 cut into pieces
Sambhar powder –  2 tbsp.
Chilli powder –  2 tsp.
Tamarind water – ½ cup ( small ball of tamarind soaked in water and juice taken)
Mixed vegetables –  1 cup ( carrot, potato, lady finger, brinjal, drumsticks, chamadumpa or arbi)
Asafetida or hing –  ½ tsp.
Turmeric –  1 tsp.
Salt to taste
To temper
Oil –  2 tsp.
Mustard seeds – 1 tsp.
Cumin –  1 tsp.
Split urad dal –  1 tsp.
Curry leaves –  a few
Method
In a pressure pan, add the soaked dal together with yellow moong dal, tomatoes, onions, hing, green chillies, sambhar powder, chilli powder, tamarind water, salt and turmeric. Add 2 cups water and pressure cook till done. Mash well.
Depending on the vegetables you want to add to the sambhar, boil them and keep aside.
In a kadai, add oil and once hot, add the ingredients under 'to temper'. Once done, add the vegetables and sauté well.
Add these sautéed vegetables to the dal mix in the pressure pan and give it a boil.
For interesting and easy Sambar and related recipes, click here….
a. Mera Style Sambhar
b. Brinjal Sivangi Sambhar
c. Bisibella Bath