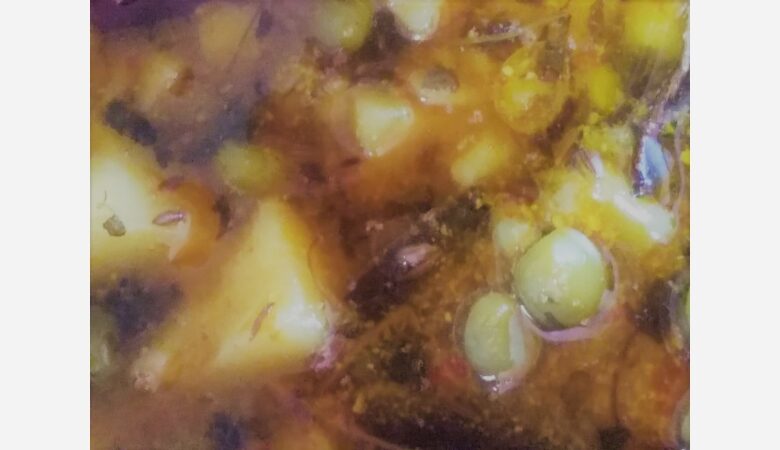 My sweet neighbour Mrs. V taught me how to do this. I keep on pestering her for quick recipes, things that don't take up much of my time. I go on asking her for stuff that can be completed in few minutes. That's when she told me about this recipe….she knows potato is my favourite vegetable. This dish is tasty and best enjoyed with chapathis.
Ingredients
Curd – ½ cup
Onions – 2 finely chopped
Peas – 1/3 cup
Potatoes –  2 or 3 chopped
Oil –  2 tsp.
Turmeric –  ½ tsp.
Red chilli powder –  1 tsp.
Coriander powder –  1 tsp.
Cumin – 1 tsp.
Fennel seeds – 1 tsp.
Mustard –  ½ tsp.
Bay leaf – 1
Hing or asafetida  –  1/ tsp.
Kasuri methi – 1 tsp.
Garam masala powder  –  ½ tsp.
Water –  ½ to 1 cup (depending on how liquidly you prefer)
Salt to taste
Method
In a vessel, put curd into it along with salt, turmeric,red chilli powder, coriander powder and a little bit of water. Mix well and keep aside.
In a small pressure pan, add oil and once hot, add bay leaf, cumin, fennel seeds, hing and mustard seeds. Sauté and then add the onion pieces. Fry well till onion is partially cooked.
Now add the curd mix and stir on low flame only.
When it simmers and oil leaves the sides, add the peas and potato pieces.
Now add water, kasuri methi and garam masala powder. Give it a quick stir.
Pressure cook till done.
Some more easy and tasty potato recipes here….
a. Aloo Methi Fry
b. Potato Masala
c. Beans Potato Fry
d. Barbati Potato Kura
e. Potato and Peas Fry
f. Beans and Potato Curry