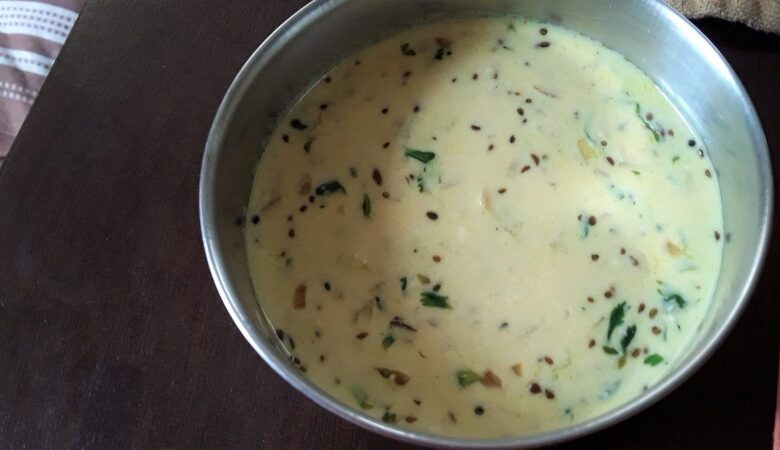 Ingredients
Buttermilk  –  1/2 cup ( thick curd well- beaten, very little water added )
Vamu or ajwain –  2 tsp.
Coriander –  1 tbsp.
Green chillies  –  2 sliced
Ghee – 1 tbsp.
Onion –  1 small finely chopped
Curry leaves –  a few
Mustard seeds –  ½ tsp.
Cumin –  ½ tsp.
Turmeric – 1 tsp.
Salt to taste
Method
Take a vessel and put the buttermilk into it. It should be at room temperature.
Take a small kadai, add ghee into it and heat.
Now add the mustard seeds and cumin. Once they splutter, add the onions and green chillies.
Now add the coriander and curry leaves to it and fry well till onions get cooked.
Add salt and turmeric to it and mix well.
Take this mix and add it to the buttermilk. Give a good stir.
This goes best with rice at lunchtime.
Another style of Buttermilk Rasam or Majjiga Pulusu is shared here. This recipe too is yummy and is an absolute favourite of many South Indians.
Using Ajwain or Vamu is good for digestion and another recipe Ajwain Tomato Rasam here is easy and extremely simple to make. It goes best with white rice.