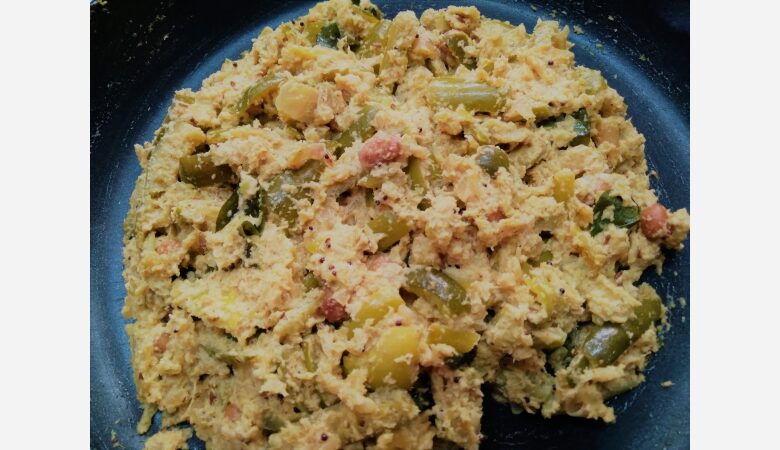 Other than the usual varieties of the dondakaya being cooked at home – just a simple fry most of the time, this comes as a breather from the regular fare. I love coconut and when added to this, oh what a yummy taste.
In this recipe, to derive the maximum flavour, the ivy gourd pieces are slowly cooked with the onion to which the spice powders are added. To save time, I boil the ivy gourd pieces with some water and salt and then add it to the fried onion. Both styles taste equally yum.
One day it so happened that before adding the coconut paste, I gave the curry a taste check. And that too was so good just with the addition of powdered spices and the onion. So now, with or without the paste, this recipe can be made. I have put both the pictures — one with the coconut paste and one without.
Ingredients 
Dondakaya (Tindora) – 20-25 nos.
Onions – 2
Green chillies – 2 or 3
Curry leaves – 2 sprigs
Peanuts – 1 tbsp.
Turmeric – 1/2 tsp.
Red chilli powder – 1 tsp.
Jeera powder  – 1 tsp.
Coriander powder – 1 tsp.
Oil – 2 tbsp.
Salt to taste
Mustard seeds – ½ tsp.
Cumin – 1/2 tsp.
Urad dal – ½ tsp.
Hing – ¼ tsp.
To roast and grind
Coconut pieces – 1 cup
Sesame seeds – 1 tsp.
Groundnuts  – 1 tbsp.
Method
Slice the dondakaya and keep aside. Slice onions and green chillies finely.
Dry roast the ingredients given under 'to roast and grind' and make a fine paste by adding a bit of water.
Take a pan. Add oil and once hot, add mustard seeds, cumin, peanuts, curry leaves, urad dal and hing.
Fry for a minute and then add sliced onions and green chillies.
Sauté for few minutes till onions turn transluscent.
Add the dondakaya pieces. Mix well and cook for a couple of minutes.
Add all the powders along with salt. Mix well. Add water and cover and cook further till done.
When the dondakaya pieces are soft and well cooked, add the coconut paste and mix properly till everything blends well.
Enjoy with hot rice.
For a few more vegetarian curry recipes, click below.
a. Masala Cauliflower
b. White Pumpkin Gravy Curry
c. Potals Masala
d. Knol Khol Kootu
e. Chow Chow Masala Curry