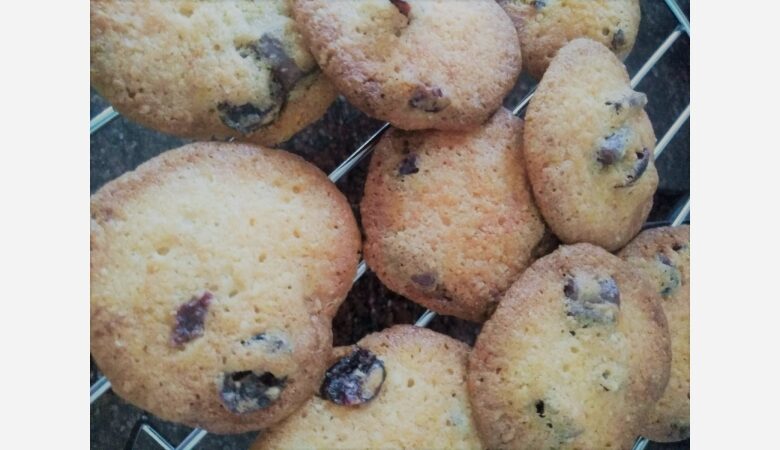 Adding spoonfuls of whole oats and dried cranberries to the ultimate buttery choco chip cookie dough takes this to the next level with its taste and texture. I got a nice big value added packet of dried cranberries, courtesy my aunt, and I couldn't wait long enough to get going and making cookies.
Ingredients
Wheat Maida – 1 cup
Whole oats – ½ cup
Baking powder – ½ tsp.
Baking soda – ½ tsp.
Salt – a pinch
Unsalted butter – 140 gms. at room temperature
Brown sugar – ½ cup
White granulated sugar – ¼ cup
Egg – 1, large at room temperature
Vanilla essence – ½ tbsp.
Semi sweet choco chips – ¾ cup
Dried cranberries – ¾ cup
 Method
In a bowl, mix the maida with the oats, baking powder, baking soda and salt. Keep aside.
In another bowl, cream together the sugars and butter till nicely done.
Add the egg to the sugar and butter mix. Beat well. Then add the vanilla essence.
Next add the dry ingredients to the wet and beat well once again.
Lastly add the choco chips and dried cranberries. Mix well.
Put spoonfuls of the cookie dough in aluminium trays lined with parchment paper and bake in a preheated oven at 180 degrees centigrade for about 10-15 mins. till the cookies start browning.
Cool the cookies in the trays and later transfer them onto racks to cool completely.
If you like these cookies, be sure to try out my other recipes too…the cookies just turn out bakery style
a. Chocolate Chip Cookies with Blueberry Centre
b. Flourless Chocolate Cookies
c. Fudge Chocolate Brownie Cookies
d. Marbled Oatmeal Cookies
e. Triple Chocolate Cookies
f. Eggless Cornflakes Cookies