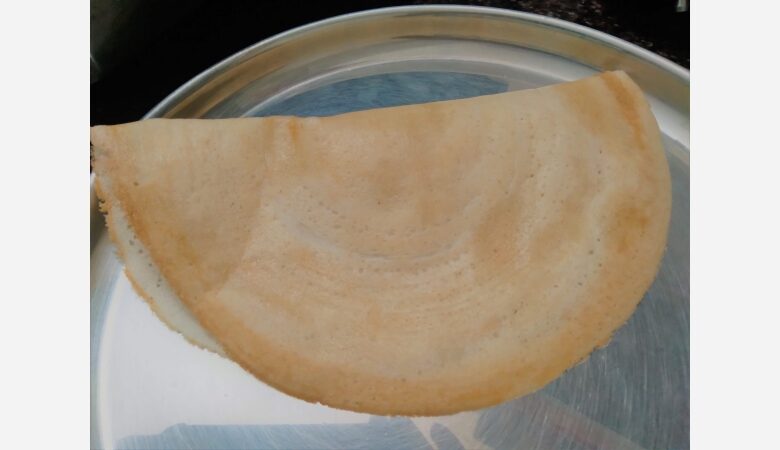 This is an all time love of mine! Breakfast or dinner, a nice, golden crisp dosa is always welcome. My mouth is watering thinking of this….yum yum yum.  How do I make them ? here goes…
Ingredients
Whole urad dal – 1 cup
Rice –  3 cups
Methi seeds – ½ tsp.
Method
Wash the dal and rice properly and soak in lots of water for 4-6 hours together with the methi seeds.
Grind them well to form a smooth batter.
Allow to ferment overnight.
Next day, add a few spoons of salt and required amount of water and give it a good mix.
The batter is ready to make dosas.
Heat a dosa tawa. Add a big ladle full of batter, spread it around and put a bit of oil all around it.
Let it roast for a minute and once it is done, flip it over on the other side and keep it for a while.
Your hot, crisp golden colour dosa is ready to eat.
The best accompaniment for a hot crisp dosa is Coconut Chutney and Sambhar. I have quite a few recipes for both done in different ways. You can check them out here…
a. Coconut Chutney – Style 1
b. Coconut Chutney – Style 2
c. Mera Sambar
d. Sambar | Dal with Veggies
But some households like mine, love the Senagapindi Pachadi too. This one is a simple chutney made with chana flour, onion and tomato.