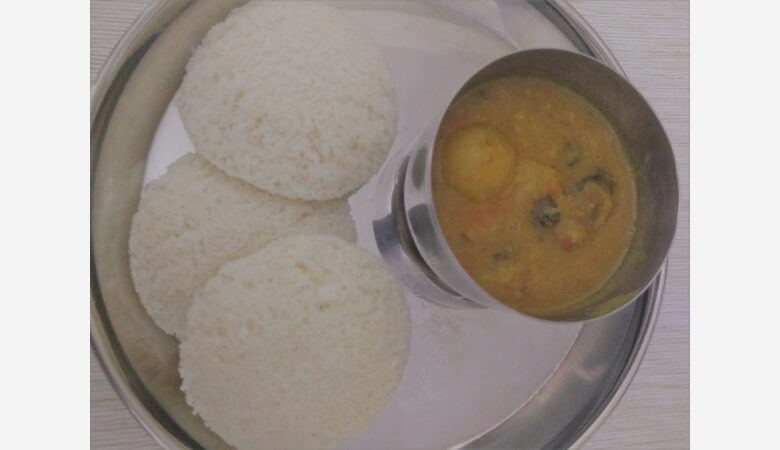 How to make soft idlis? The uppermost question in everyone's mind. And it always still is, I think…. Anyway, so many have given me quite the same measurements of ingredients and mostly they always turn out different.  The weather and the quality of ingredients used I think matters. The urad dal and idli rava differ from company to company and brand to brand. Each one has their own favorite brand to choose from. Here goes the recipe –
Ingredients

Whole urad dal – 1 cup
Idli rava – 2.5 cups
Method

1. Wash the dal properly and soak in lots of water for 4-6 hours.
2. Soak the idli rava also in water for a couple of hours.
3. Grind the urad dal well to form a smooth batter.
4. Mix the idli rava to the batter and allow to ferment overnight.
5. Next day, add a few spoons of salt and give it a good stir.
6. The batter is ready to make idlis.
7. Take an idli dish and apply oil lightly.
8. Add spoonfuls of batter and steam for 8-10 mins. Breakfast is ready.
Some more easy and popular breakfast recipes for you….
a. Pesarattu
b. Dosa
c. Simple Paniyaram
The best side dishes for a plate of steaming hot idlis are..
a. Coconut Chutney – Style 1
b. Coconut Chutney – Style 2
c. Sambhar
d. Senagapindi Pachadi