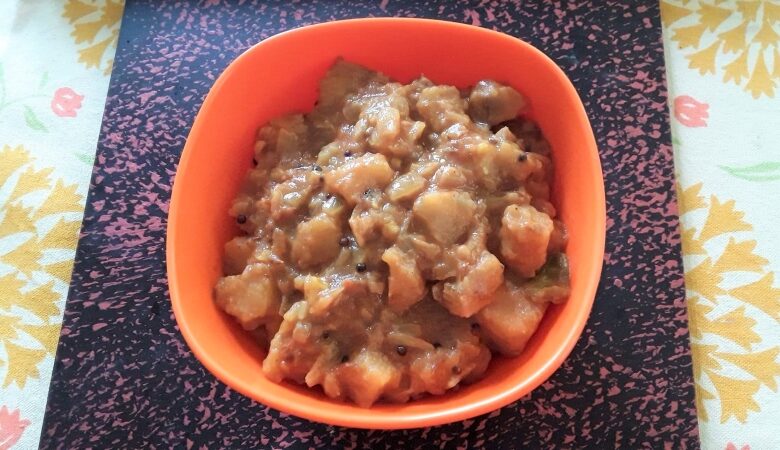 Ingredients
Raw banana /  artikaya – 1 big
Onion –  2 small finely chopped
Tomato –  1 finely chopped
Green chillies –  2 chopped
Red chilli powder –  1
Salt to taste
Kitchen King Masala – 1 tsp.
Oil –  1 tbsp.
Mustard seeds –  1 tsp.
Cumin – 1 tsp.
Split urad dal –  1 tsp.
Turmeric –  ½ tsp.
Water for cooking
Method
Peel the skin of the raw banana and cut into pieces and put in water.
In a small pressure pan, add oil and once hot, add the mustard seeds, cumin, urad dal and sauté.
Now add in the onions and green chillies with a little bit of salt and turmeric.
Fry well and then add in the tomato pieces.
Now add the raw banana pieces to it and mix well with a little more salt at this stage and cook.
Add the red chilli powder and kitchen king masala powder and fry for a few minutes.
Next add water and pressure cook for 3 whistles. The curry is ready.
For more such simple and easy variety of vegetarian masala curry recipes, click here…
a. Potals Masala
b. Bitter Gourd Masala Dry Veg
c. Dondakaya Onion Tomato Masala
d. Masala Cauliflower
e. Potato Masala
f. Barbati Ullikaram
g. Brinjal Onion Masala
h. Ridge Gourd Onion Masala